Taking your bike on public transport in London
If you've got a folding bike, you can take it anywhere at most times. However, bus drivers can reject your request to bring one on board, especially if the bus is quite full.
As for non-folded bicycles, it gets a little more complicated. For example, you can take your bike on the Docklands Light Railway off-peak Monday-Friday. That means they're allowed on until 07:30, between 09:30 and 16:00 and after 19:00. They're also allowed on all day at the weekends and bank holidays.
It's the same story for non-folded bikes on London Overground.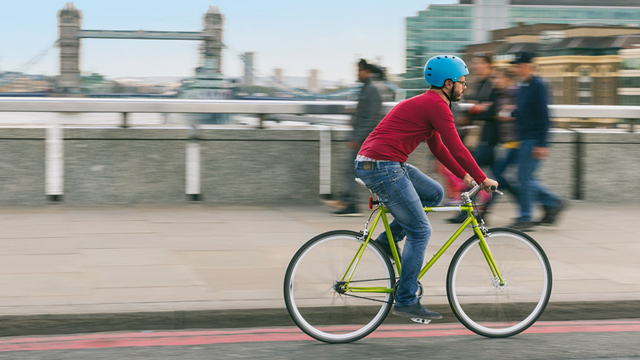 You can take on your bike between 07:30 and 09:30 if you're leaving Liverpool Street Station to go to Chingford, Enfield Town or Cheshunt or going the other way between 16:00 and 19:00.
If you're riding on the Thames instead, most riverboat services accept bikes on board. For those who prefer to go  over, bikes can be taken on the Emirates Air Line at any time of day.
Bike transport in the rest of the UK
Allowances vary a little here, so let's take it by mode of transport:
Coach
Usually, most coaches do not let you take your bike.
Train
Typically, you can't take your bike on any trains during peak hours, and you're advised to book as far in advance as possible – as there are often only a couple of cycle spaces per train. It is advisable to check the operator's website.
Tram
In a lot of instances, folded-up bikes can be taken on trams and non-folded ones can't.
That's the case with Manchester Metrolink, Midland Metro, Nottingham Express Trams and Sheffield Supertram.